Two more days until my one year anniversary here.
click for HampsterDance
What I have learned so far-
Statcounter shows my own phone viewing from St. Louis, Kansas, and Illinois.
Blogger views don't count me when I'm on Chrome because I've got my cookie blocked, and there are around 1700 Android views that I can triangulate with other trackers to
not me
, so my blogger views are you guys.
Twitter is my top referrer, thanks to hashtag days, G+ is second, google search engine in U.S. fourth, google search engine in EU fifth, facebook 6-9, and buffer tenth. I had never heard of buffer, but looking it up I see it is 'the Siri of social media'. If that means scheduled posts with tweet links, yeah, that. I rarely schedule, so I'm surprised to see it made a top ten list.

Besides my G+ page, my top referring url is Pinky blog, apparently many of you keep browsing while you are here. I wish I had a little slot to serve you coffee or something. My top internally referring post is
the #bencongruity of lambs, lollipops, and goth spaceships (pre-coffee)
, 2nd is
...
(yes, that is the title), 3rd is
5 ways people push my asexuality button
.
GWT (Google Web Tools) says both my top impressions and top clicks (I assume from outside sources) is '
khanlock
'. I linked that to all my Khan posts in case you're interested.
Google analytics (installed two weeks ago) shows my bounce rate is 28% out of 231 sessions (that's actually really good). Between all my stat trackers and analytics, 38 countries have visited Pinky blog. This is consistent with my history in the Lexx fandom, and I know several Merlin, Sherlock, Farscape, and Stargate fans pop in and out, making my decision to step out and be a real person aggregating all my internet stuffs a good one.
Remember, stats are my #aspienado train obsession, finding web sharing algorithm flaws is my favorite game, and mocking analytics is my favorite sport. I aced 3 stat classes in 3 different college fields, and
numbers mean nothing
when they're skewed, inflated, and then assessed incorrectly. Analytics help companies sell click space. Us little guys jumping in is just us splashing around the shallow end of a giant corporate pool. If you're using a tracker, my advice is use at least 3 trackers, because they will all show you completely different things, and you can triangulate your data for more realistic info. The goal is to watch trending over time to see how your content is doing. You can whine about comments, but the goal
as a blogger
is to attract and retain
readers
. I learned long ago that for every one comment I get, there are thousands of views, and the fact that they're sticking around and even coming back is gold. Never use a lack or slew of comments to judge how your blog is doing. Your lurkers are your bread and butter, as it were.
That being said,
I never expected this
.
Or this
.
Because I was content with this.
I am-
mRpl
,
GrandFortuna
,
YabloVH
,
Bluejacky
,
JanikaBanks
,
PinkyGuerrero
,
GuidoSpock
,
aspienado
,
ExistentialAspie
I'm everywhere, in the mists all around you
.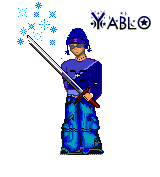 You guys know why I'm here. Please excuse my gooey feels. I just never expected this much support on a personal blog. Some of you know how difficult a challenge it is to be honest (i.e. brazenly stupid) with personal stuff, and more because I've been taught all my life to hide everything that is wrong with me, and it seemed like there was nothing that wasn't. #aspienado But that's ok. We are all who we are.